Give a Child Happiness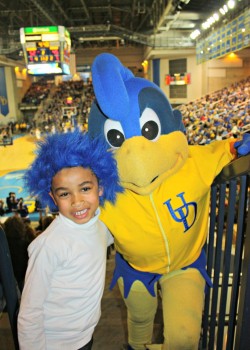 Kind to Kids gives deserving children the opportunity to expand their world and discover new possibilities.
Imagine you are a child who has been beaten, abused and neglected and needs to be removed from your home – or that you are a child from a family so poor that you sometimes don't have food to eat.
You can bring joy to a child who is a victim of child abuse, neglect or poverty.
.
.
.
.
The children dream about what it would be like to someday go to a baseball game, see a theater performance or receive a toy during the holidays. We give them joyful experiences and show them that someone cares. Kind to Kids makes dreams come true.
Kind to Kids also teaches life skills to teens aging out of the foster care system, provides supplies to children entering foster care, and distributes toys and books to foster children during the holidays. In Delaware, there are over 750 children in foster care and over 36,000 children in poverty.
Kind to Kids is featured in Delaware State Chamber Magazine, May 2013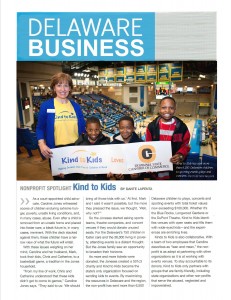 How We Work
Kind to Kids partners with area venues to provide a wide variety of entertainment, artistic, theatrical, cultural, and sports events to children in need. We work with over 40 nonprofit organizations that serve children in poverty, and all state agencies that serve foster children and children in poverty.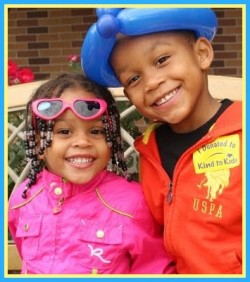 Since we began in 2008, Kind to Kids has sent over 6,000 needy children and families, to wonderful events at ticket values over $95,000. We have expanded services to include LifeSkills educational program for foster teens, My Blue Duffel program to provide supplies for children entering foster care, and Help A Kid toy & book drive during the holidays. We are an extremely cost effective and well-respected agency.
Kind to Kids gives children a lasting memory of joy – a reminder that WE care.
.
How We Began
Kind to Kids is a success story about our community.
The 501c3 non-profit charity began in 2008 as a family-run organization founded by the Jones Family. It wasn't easy, but we believed in utilizing unused resources to help our society's most vulnerable children. We worked hard and discovered the joy of community. Foundations believed in our dream and the dream of underprivileged children. Corporations and venues saw the efficiency and effectiveness of our model. People opened their hearts.
Since that time, we have sent thousands of children to amazing events they would have never experienced. We obtained generous donations for duffel bags to help every child in foster care in Delaware. And we have distributed enough toys for every foster child throughout the state over the holidays. With your support, the organization continues to grow and provide vital services for children who need our help.
Kind to Kids is a success story about how our community came together to care for our neediest children.
Kind to Kids Handout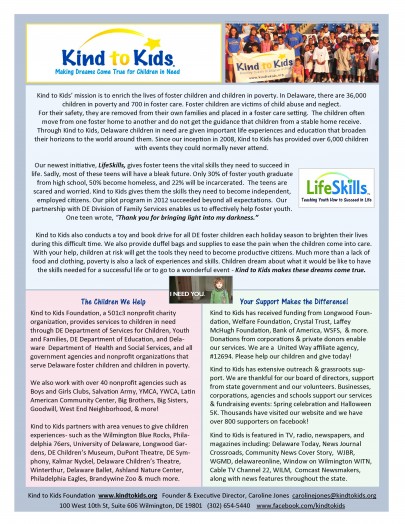 .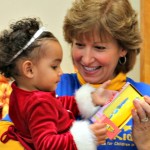 Caroline Jones
Founder & Executive Director
Welcome & thank you for your interest in helping children in need!
.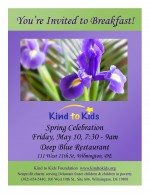 Click above photo to register today. Only a few tickets left - we will be SOLD OUT by today, Wed, 5/8!
Spring Celebration
Friday, May 10th, 7:30 - 9am
Deep Blue Restaurant
.
Make a Difference!

$500 LifeSkills for teen, 1 year $100 sends 20 children to events $20 -duffel bag for foster child $15 -CARE pkge for foster child $5 -buys a toy for foster child

.
.
Kind to Kids has sent
over 6,000 children
to events worth
over $95,000
in ticket costs.
.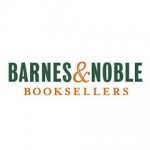 Thank you Barnes & Noble, Christiana Mall, who donated over 3,600 books to Delaware's foster children - giving the beautiful gift of reading!
.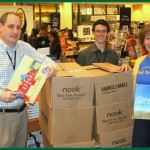 .
.
Visit us on facebook
Kind to Kids
facebook.com/KindtoKids
.